It was wonderful to get together with my stamp club girls! I've got to remember to take pictures of them when they are here. They all loved making the mini magazine holder with love notes using the Love You Much bundle. Seven members had to miss so I made their projects for them. Once I receive their orders, they can claim their projects. Don't they look cute all lined up?
Today I have been preparing the directions and kits for the Acrylic Scrapbook that my scrapbooking girls are making on Tuesday. Here's the cover.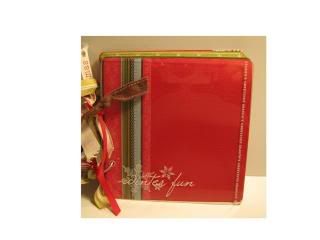 I'll show more pages later. Now I've got to get through so I can watch the season premier of 24 and well as flipping to the Golden Globes during the commercials.