I arrived last Thursday in DC to rain and cold weather, but woke up Friday to a dry day. My son was off that day, so we loaded everyone up and headed to town as soon as my grandson got home from Kindergarten. Well, actually we stopped off for lunch at Five Guys for burgers and fries. Five Guys is one of our favorite eating places when I come to DC. Okay , so we arrive in town and for some reason my son thinks I want to go to the museum! We spend the afternoon at the Museum of Natural History looking at orchids, sea life, birds, and dirt! When it was time to leave I said when are we going to see the cherry blossoms? "What? I didn't know that was what you wanted to see, it's time to go now!" I said, "what did you think I came all the way from Texas for?" I'm inserting a picture of one of the orchids we saw that day.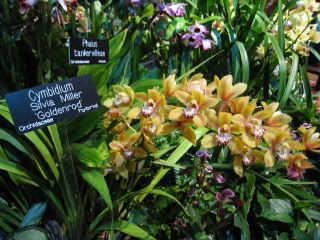 It's pretty, but it's not a cherry blossom!! Saturday was cold and rainy so we had to stay indoors the entire day. I even took a nap! The forecast for Sunday did not look promising, more rain! We got up Sunday for church to see gray skies and mist. BUT when came out of church the sun was shining!!!! Hallelujah!
We put our walking shoes on and headed to the city, with a stop on the way for a delicious Mexican lunch at On the Border! We decided to park out side the city on the Virginia side and ride the train into town. Once we arrived it was a blustery day on the hill but we had brought kites so it worked out great! Here are some photos. We are going back tomorrow to see the cherry blossom along the river. These photos were taken by the Washington Monument.