First I want to thank everyone for their kind words last week when I was home sick. I still have my cough, but I can work without it being a problem. This flu season has been a real bugger at the school where I teach. I have my 1oth case of flu in my class room right now, many of my colleagues have been sick; one even has pneumonia. My poor hubby got the cough too but he is also better.
Then my computer got sick and again many of you left words of sympathy. It's still sick, dont know if it will recover. My DH is planning to work on it tomorrow since he is off. Thank goodness for this laptop!
Now for some stamping. Next Saturday (21st) is my SASSSC (pronounced sass-c) group will be swapping easter cards. Here's mine. I really struggled with the layout and colors on this card, but I think the final product turned out nice.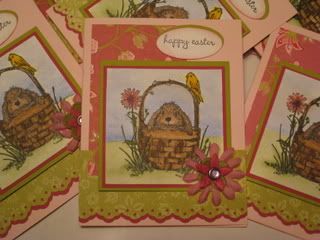 Stamp sets: Serene Spring and A Good Egg
Paper: Pink Pirouette, Whisper White, Kiwi Kiss, Raspberry Tart, Rose Red
Markers:
Bunny-creamy caramel, blush blossom
Basket-caramel and cocoa
Bird- yoyo yellow, appricot, summer sun
Sky - aqua painter and bashful blue reinker
Grass- aqua painter and celery reinker, old olive marker.