Here is a card I made by dabbing the shimmer paint (I used Champagne Mist) directly to the paper and then punching out three ornaments with our new punch and tied with the silver cord, both found in the holiday mini. I also rubbed some shimmer paint across the embossed background. The ribbon is the new Sleigh Bells , also from the mini.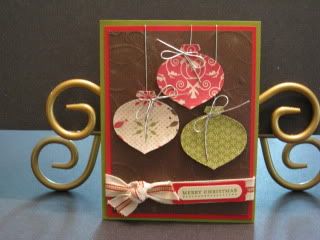 (This card may or may not be CASEd. It's been awhile since I made it and I honestly don't remember. If this is your card, let me know and I will post a link to your blog.)
Now this second card features the shimmer paint and the ink combined. First I inked the ornament stamps from Delightful Decorations with classic ink pads, and then dabbed on Champange Mist over the ink and stamped.