It's been awhile since I
posted
and that is because I was on vacation with my entire family. There were 23 in all...my three boys, their wives or girlfriends,
their
children, my parents, my brother and sister-in-law, their two kids and spouses and kids. We went to a fabulous resort near
Destin
, Florida called
Adagio
. What a great place for a reunion. We rented two condos that had everything we needed and were decorated so nice. The pools (there were four!) were to best ever, and the beach was just a few steps away. We had perfect weather and the most fun. We've already booked it for the same time in 2011!
We tried
soooo
hard to get a group photo of all 7 of the
great grand
kids for my parents. This is the best one!
lol
! The boys were cooperative, but the two girls did not want to sit on the bed long enough for a good picture.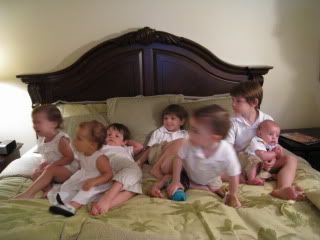 Sunset on the beach.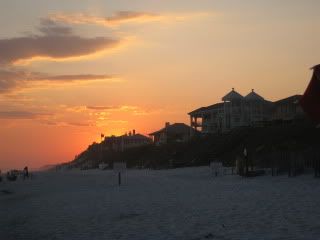 But now I have to get busy with my stamping. Let me tell you it was hard to be away from my stamping room the same week that the new catty came out!! This happens ever year, because my Dad likes to book our vacations this same week every year. But he pays for the trips so I'm not going to complain! Although, next year, he has booked a cruise for us that will be in August after convention.
So now I have stamp club to prepare, swaps to make for the demo meeting on Sunday, swaps to make for a
SASSSC
stamping retreat next weekend, more stamp club projects for July 31,and swaps to make for convention!!! When I see it down on paper like this I start to panic!
Okay, deep breath, here's what I have for tomorrow's club (have to make the third project when I finish this post). The
first
card uses Circle Circus. I got my
inspiration
from Lisa S at
SCS
. This pairs up
Bermuda
bay with black, crushed curry, and going gray. I put a piece of
Bermuda
bay
through
the cuttle bug and embossed it with dotted
swiss
, then lightly sanded over the raised dots. I love the new in color dotted ribbon which I used here. The sentiment is from Teeny Tiny Wishes ( a new must have for every occasion) and punched with the new modern label punch.
This card was a case from
Ilina
Crouss
, except I changed the color ink to rich
razzelberry
and old olive and added the
razzelberry
ribbon. The stamp set is from Kind and Caring Thoughts ( a level 3 hostess set).